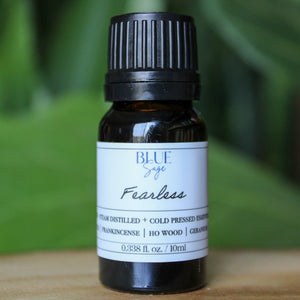 Fearless Essential Oil Blend 10ml-100% Pure Undiluted
Regular price $28.00 Sale
BLISSFUL | Blend
NOTES Top: Floral + Spicy | Mid: Fresh + Soothing | Base: Woodsy + Balsamic
Fearless Essential Oil Blend is a 100% pure, undiluted blend of Black Spruce, Frankincense, Ho Wood, Geranium, and Chamomile essential oils. These oils are known for their calming and stress-relieving properties, providing a holistic and natural approach to reducing tension and relieving fatigue.
This blend was designed to help you take on life's challenges with confidence and self assurance and banish any anxiety that stands in your way. Don't be scared of success, let the power of aromatherapy do its thing, time to be fearless!
Diffuse 8-10 drops, speak some empowering affirmations, and bask in your own bada**ery!
Essential Oils:
 Black Spruce
Frankincense
Ho Wood
Geranium
Chamomile
Bottle Info: Amber Glass, EuroDrop, Black Cap
Here's the low down on what we care about when sourcing and offering our oils:
100% Pure with safety testing
Never tested on animals
No synthetics or fillers
Grown Indigenously, cultivated and harvested ethically, distilled properly according to the plant.
Are our oils "Therapeutic Grade"? Well, they are 100% pure plant essential oils from wild harvested or organically cultivated plants all over the world in their indigenous regions. The term "therapeutic grade" is an advertising term which is not monitored or certified by any official independent organization. We chose not to use this term simply because we're not down with playing into marketing gimmicks by making up a term that's not a real thing. If any such organization decides to form, we're sure they will be happy to charge exorbitant fees to gain such certification. Being an indie brand means we get to do the work of sourcing and blending, and still offer you pure essential oils without the purely offensive price tag 🤘🏼