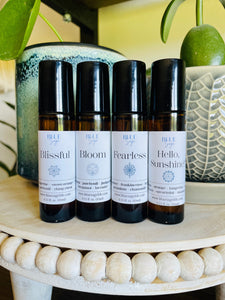 Bloom Roller | Essential Oil Roller | 10ml
Regular price $10.00 Sale
BLOOM | Roller
NOTES Top: Floral + Herbaceous | Mid: Fresh + Zesty | Base: Earth + Musk
For those seeking divine strength, the Bloom Roller is here to empower you. This blend promotes internal growth and feminine power, allowing you to live life with confidence and grace. Bloom and make your mark!
Carrier Oil:
100% Cocos Nucifera – Fractionated
 "Fractionated" means the coconut oil has gone through a heating process, heating it past the boiling point of the different forms of fat in the oil. After being left to cool, the solid and liquid separates, because Lauric Acid (one of the main fats) solidifies as it cools, while Caprylic and Capric acid stay in a liquid state. The end product is a gentle, non-greasy oil that melts into the skin quickly, leaving no stubborn residue or aroma, which makes it perfect for rollers and essential oils. You still get the skin benefits of essential fatty acids, but without the mess and greasy feel of a non-fractionated coconut oil.
Essential Oils (7.5% dilution):
Lavender
Bergamot
Ylang Ylang
Juniper Berry
Patchouli 
Bottle Info: 10 ml Amber Glass, Steel Roller Ball, Black Cap
Here's the low down on what we care about when sourcing and offering our oils:
100% Pure with safety testing
Never tested on animals
No synthetics or fillers
Grown Indigenously, cultivated and harvested ethically, distilled properly according to the plant.
Are our oils "Therapeutic Grade"? Well, they are 100% pure plant essential oils from wild harvested or organically cultivated plants all over the world in their indigenous regions. The term "therapeutic grade" is an advertising term which is not monitored or certified by any official independent organization. We chose not to use this term simply because we're not down with playing into marketing gimmicks by making up a term that's not a real thing. If any such organization decides to form, we're sure they will be happy to charge exorbitant fees to gain such certification. Being an indie brand means we get to do the work of sourcing and blending, and still offer you pure essential oils without locking you into monthly minimums and unnecessarily high prices 🤘🏼